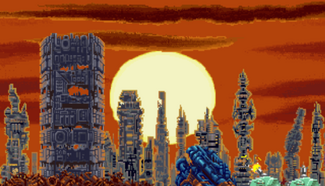 Darius' Planetary System is the planetary system of the planet Darius; both of which are recurrent throughout the Darius Series.

(All)=Central to all major entries.
(GD)=G-Darius
(D)=Darius
(DG)=Darius Gaiden
(D2)=Darius II
(DB)=Dariusburst

Celestial Objects
Edit
Known Objects
Edit
Possible Objects
Edit
G-Darius: Stage 5
Edit
Stage 5, or Darius Star System, of G-Darius is set in Darius' Planetary System. Stage Five is divided into 5 zones: Grand Cliff, Great Fortress, Genesis, Great Fortress II and Grave of Culture. It is the final stage of the game.
Ad blocker interference detected!
Wikia is a free-to-use site that makes money from advertising. We have a modified experience for viewers using ad blockers

Wikia is not accessible if you've made further modifications. Remove the custom ad blocker rule(s) and the page will load as expected.