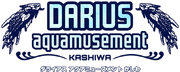 Darius Aquamusement
was one of two April Fools' jokes Taito created in 2016. It was portrayed as a newly opened water theme park in Kashiwa based on the
Darius
games. Attractions included an exhibition of
Unagi Fossil
, a SeaWorld-like
Great Thing
show, an underwater
Zuntata
concert, and a public fishing pond called "Kashiwa Fish Land" where huge battleships could be caught with fishing rods.
A 360° YouTube video was published to accompany the Darius Aquamusement joke.
Ad blocker interference detected!
Wikia is a free-to-use site that makes money from advertising. We have a modified experience for viewers using ad blockers

Wikia is not accessible if you've made further modifications. Remove the custom ad blocker rule(s) and the page will load as expected.