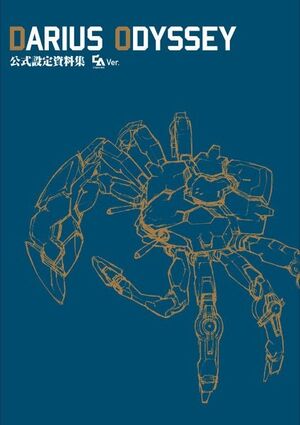 Darius Odyssey is a 2009 guidebook covering G-Darius, Darius, Darius Gaiden, Darius II and Dariusburst originally bundled with the pre-order DX version of Dariusburst.
Editions
Edit
Three editions of the book exists:
The original 2009 edition bundled with the DX version of Dariusburst. It has a white cover with full-color artwork of King Fossil.
A stand-alone 2013 edition. It has a black cover with golden line-art of Great Thing. It was also bundled with a collection of WARNING!!: Darius-san, a parody comic-strip tie-in to Dariusburst: Another Chronicle EX, and four clearfiles decorated with Darius related artwork.
The 2015 "CA-ver."; so named after Chara-Ani, who co-published this and the 2013 version with Taito. It has a dark-cyan cover with golden line-art of Force Claw and Azure Nightmare. It was included (digitally) in the PS4 and PC versions of Dariusburst Chronicle Saviours and bundled (physically) with the Japanese limited edition of the PSVita version.
The 2013 edition added information on Dariusburst: Another Chronicle. The CA-ver. also added information concerning Dariusburst Chronicle Saviours, Dariusburst: Another Chronicle EX and Dariusburst: Second Prologue, some of the WARNING!! strips and a few other extras. Although the information concerning Chronicle Saviours is severely lacking compared to the rest.
Contents
Edit
Based on the CA-ver. Everything up-to and including the VISUAL GALLERY-chapter is in color, the rest is in black-and-white.
DARIUS HISTORY: The Dariusburst version of the timeline. Another Chronicle has been added, but Chronicle Saviours curiously has not.
EPISODE 1 -G DARIUS-: Information on and artwork of the bosses in G-Darius and a summary of it's plot. The same is true of the following six chapters and their respective games unless otherwise noted.
EPISODE 2 -DARIUS-
EPISODE 3 -DARIUS GAIDEN-
EPISODE 4 -DARIUS II-
EPISODE 5 -DARIUSBURST-: Also has information on Silver-Hawk Legend, Silver-Hawk Next and their pilots.
EPISODE 6 -DARIUSBUST ANOTHER CHRONICLE-: Also has information Silver-Hawk Formula, Silver-Hawk Assault and Dariusburst: Second Prologue.
EPISODE 7 -DARIUSBURST CHRONICLE SAVIOURS-: Also has information Silver-Hawk Murakumo, but has no plot-summary.
VISUAL GALLERY: Various promotional artwork and logos for the preceding games. There is no artwork for Chronicle Savious, but there is a full page of rejected designs for it's logo.
ARCHIVES: Details on the zones, endings, pilots and enemies of all the proceeding games except Chronicle Saviours. Darius II lacks any info concerning it's enemies, but Darius Gaiden has an additional section of concept art. There is also a list of Japanese ports of the games and games not included in the canon: Darius Twin, Sagaia (here considered a separate game rather than a port of the original Darius) and Darius Force.
SOUND: An article about Zuntata and a detailed list of Darius soundtracks and remix albums.
WARNING!!: A few strips from the comic by the same name.