Darius R
Release date
JPN Dec 13, 2002
Developer
PCCW Limited (Pacific Century CyberWorks)
Publisher
Taito
Platforms
Game Boy Advance
Darius R is a port of the original Darius, released in 2002 for the Game Boy Advance, only in Japan. It is like Super Darius/Darius Plus, though more vertical scrolling is required, and there are less zones.
The game has a option to play individual stages. Another odd feature is music from throughout the Darius series... as well as a secret track from a game that has nothing to do with Taito.
Levels and Bosses
Edit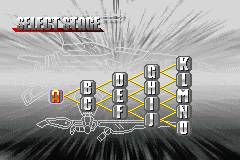 Ad blocker interference detected!
Wikia is a free-to-use site that makes money from advertising. We have a modified experience for viewers using ad blockers

Wikia is not accessible if you've made further modifications. Remove the custom ad blocker rule(s) and the page will load as expected.